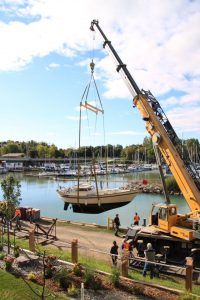 Lift Out captain still required for the early lift out, Oct 05, 2019.  Also, 3 persons 16 or older to pressure wash boats, also on 05Oct19. 
Contact Keith Drake at keith_drake@hotmail.com .
Hello
It is that time of year where we have to start planning lift-out. Early lift-out will be on Saturday, Oct. 5. Late lift-out will be Saturday October 19 This year we have the parking lot, east wall and north wall available for storing boats.
We are looking for volunteers for Lift Captain Safety Officer, Slings, Tag Lines and boat moving.
Below is the Lift-out agreement you agree to if you wish your boat lifted.
Note: Boats on trailers may be lifted early or late. Please inform the Lift Captain you wish to be lifted as soon as you can on the lift day.
If you wish Kincardine Yacht Club to lift your boat, the following conditions apply:
You may not get your preferred location or date.  Let the Supervisor know you are lifting your boat onto a trailer. 
Mast:
Mast on deck

Mast on –

Note: only boats with keel stepped masts lifting to the East wall or Parking Lot will be lifted with masts stepped.

Boom and backstay must be removed prior to lift.
 I understand that Kincardine Yacht Club does not carry insurance for damage to boats incurred during lifts and I agree that I am responsible for any damage to my boat as a result of lift activities. 
You must  follow the instructions of the Lift Supervisor and Safety Monitor. You must remain outside the lift area whenever a boat is suspended from the crane. The crane will not lift a boat if unauthorized persons are in the crane area and that the delay will be included in your lift time.
You must have tag lines (minimum 20 ft) attached to the bow and stern before 8:00 on the morning of the lift and to have all power cords and attachments removed. The backstay and boom must be detached if the mast is on. Any delay related to the boat not being ready to lift will be added to your lift time. 
Boats will not be lifted unless the owner or representative is present. Additional lift time resulting from owner not present or boat not ready will be billed to the owner. Boats will not be lifted (except to move them out of the way) if you have outstanding bills with KYC or the marina.
The lift cost will be your share of the travel time (total crane charges for the crane when a boat is not being lifted) and your lift time (crane charges for the time when your boat is in the slings or while the crane is waiting for you). Labor charges for cradle moving and  sling crews are added to the crane cost. If you are not a member of Kincardine Yacht club, the lift cost is doubled.
Kieth Drake
keith_drake@hotmail.com